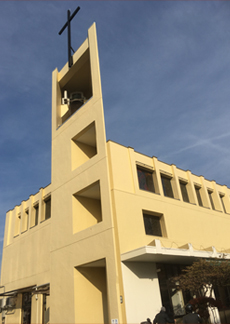 A church is a gathering of people who believe in Jesus Christ. Nobody, however, is born with religious faith. Whether it is through the nurturing care of our parents or our own intention, we enter the circle through some door of opportunity that is opened, and thus acquire faith. Furthermore, faith cannot be deepened only through our own efforts. Faith is guided by God, strengthened through attendance at masses, and shared with fellow believers to deepen one step at a time. The more we know God's blessing, the more our hearts open, and we are filled with abundance. We sincerely hope you too will come and knock on the door of our church.
48 Kanazawa-cho, Kanazawa-ku, Yokohama City
From Kanazawa-bunko Station on the Keikyu Line
Take the east (seaside) exit, cross the Japan National Route 16 intersection and turn right, and then turn left at the first street. The church is approximately 100m up the road on the left side. It takes approximately 4 minutes, walking.
Access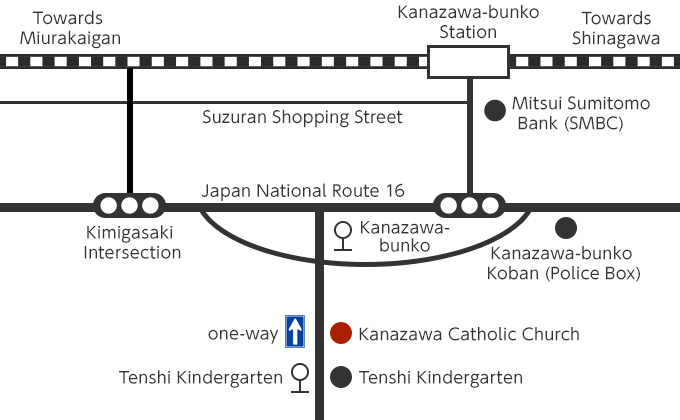 Click here for the Official Seitomagakuen-Tenshiyouchien Kindergarten Website only in Japanese
Mass Hours
Sunday Mass
Every Sunday (Starts 9AM)
Sunday Vigil Mass
Every Saturday (Starts 5PM)
The date and time of the Weekday Mass and First Friday Mass are subject to change, so please inquire ahead.
We will provide specific information for special Masses such as Christmas and Easter.
Anyone can attend Mass. For first time visitors, if you ask someone near the center, we will provide guidance. If there is anything you do not understand, please do not hesitate to ask.
For first time visitors to our Church
Q1.If I would like to visit the church, what should I do?

Sunday Mass is held from 9AM every Sunday, so please visit then. Ushers will advise you as to the procedure.

Q2.If I were to view the inner perimerter of the chapel privately,what should I do?

As a kindergarten is in session on weekdays, the front gate is closed, but it is not locked, so please open it to enter. The church entrance is towards the back of the grounds. Additionally, the church has wooden flooring, so you can enter in your regular outdoor shoes.

Q3.If I would like to ask about Christianity, what should I do?

Please speak to a nearby member of the congregation. A well informed parishioner will provide you with an explanation.

Q4.Can I attend Mass anytime? Do I need to be careful of my clothes?

You can attend Mass anytime; you do not need to ask ahead. If possible, please enter the church before Mass begins. Regular, everyday clothes are appropriate.

Q5.Is speaking with others allowed during Mass?

Please refrain from talking during Mass. Also turn off any mobile phones. If it is your first time, nearby parishioner will explain the proceedings in a low voice.

Q6.Where can we sit in the church Is it decided?

In the church there are pews to place liturgy books and hymn collections, and you may sit in any seat except the front row, which is reserved.

Q7.Are there rules for the offertory during Mass?

It is your decision whether you do or do not offer. There are no rules as to the offertory amount.
Introductory course to Christianity, Bible study course
The Kanazawa Catholic Church has prepared a variety of courses for those who wish to study Christianity. You can enter freely even while the courses are in session. We can also offer individual instruction for those who desire it. Please feel free to contact us. For details, please contact the church reception office
(the reception is open from 10AM – 4PM).
TEL/FAX:045-783-3524
Kanazawa Catholic Church pursues its goal of being "an open church, with a close relationship with the local community," based around the three pillars of its three teams, the "Nurturing the Power of Prayer," "Raising the Power to Share Faith," and "Raising the Power to Testify to God's Love Team."
History of Kanazawa Catholic Church
Click here for history of Kanazawa Catholic Church only in Japanese